As a new student in an FTCC curriculum program,
the best way to begin your education here

is to attend an orientation session and receive the tools you will need to be a successful student.
We welcome and
strongly encourage family members and guests to attend the FTCC Orientation

and learn about how to get involved at FTCC and experience what being a Trojan really means.
Activate Self-Service Account

Information to access your account will be mailed to you within 3-5 days, to the address listed on your application. You will be able to activate your FTCC Self-Service Account.
Activate FTCC Student Email

Enter your email address, ex. diej1234@student.faytechcc.edu Enter your 8-digit date of birth (mmddyyyy)
Where do I go? How do I get there?
Where is FTCC's Fayetteville Campus?
Our Address is 2201 Hull Road, Fayetteville, NC 28303
For directions, please visit FTCC's Interactive Map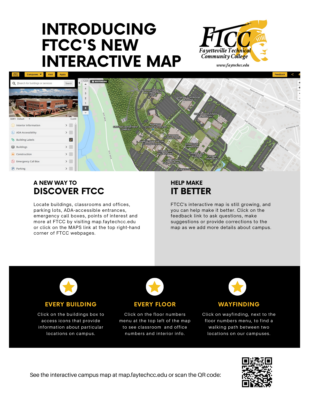 Do you need login help, assistance registering for curriculum classes or just a place to get answers to questions you have about FTCC?
Stop by the Student Connection Center!
Contact Info:
Student Resources
Wondering where to find the information about FTCC that you are looking for?