Fine Arts Department
Horace Sisk Building (HOS), Room 602 2201 Hull Rd, Fayetteville NC, 28303
Office Hours Monday - Friday
8:00AM - 5:00PM
Email
Department Chair: Dennis Johnson
Fine Arts Department Events!
FTCC Fine Arts is proud to provide you an exclusive look at Sonny Kelly's "The Talk," A One-Man show. 
Join us live on Thursday, July 16th, at 1:30PM for a panel discussion among FTCC Fine Arts Department Chair, Dennis Johnson; Communication Program Coordinator, Sonja Osborne; and actor/writer/teacher Sonny Kelly, as we discuss this show and talk about racial issues in America.  We will take questions from the audience during the panel discussion.
Talking The Talk at FTCC
Join FTCC faculty and students as we discuss racial reconciliation, equity, inclusion, and connection! 
The Talk is an eclectic theatrical experience that weaves together interactive theater, a dynamic embodied performance, and a multi-media production with the words of James Baldwin, Langston Hughes, W.E.B. DuBois, Frantz Fanon, Paul Gilroy, Ta-Nehisi Coates and others. A virtuoso communicator, performer and facilitator, Dr. Sonny Kelly embodies over 20 characters, and thoughtfully ushers audiences into a courageous space to have difficult, but necessary, conversations about diversity, equity, and inclusion.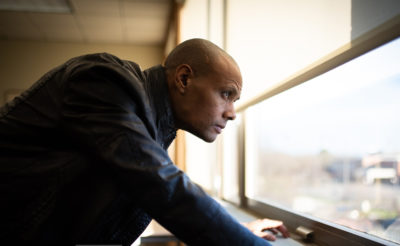 The Talk is about returning to memories (personal and collective), returning to our ancestors, returning to faith, and reckoning with an often confusing contemporary composite truth. At its core, The Talk is really about a father's profoundly abiding love for his son. With this work, Dr. Kelly invites audience members into a complicated, but loving, family where we are all encouraged to imagine new possibilities together.
Dr. Kelly performs The Talk and facilitates community discussions about equity, conflict management, intercultural communication, and creative self-expression at schools, universities, civic institutions, community centers, places of worship, and theaters around the world. This performance lasts 80 minutes long, and can be adjusted according to the needs of your community. The performance is followed by a 30 to 60 minute talk-back (community conversation). 
FTCC's All-American Jazz Quintet
Two-Dimensional Art
2D Design, Painting, Drawing, Watercolor, Drawing I and II, Printmaking I and II
Brittany Floyd Painting I Spring 2019

Casey Toney Figure Drawing Fall 2018

Courtney Jonson Painting I Spring 2019

Joy Green Painting I Fall 2018

Kiara Cortes Painting II Spring 2019

Mattea Sylvester Painting I Fall 2018
Three-Dimensional Art
Sculpture I and II, Ceramics I, 3D Design
The Art Gallery
The Art Gallery at FTCC displays artist exhibitions each semester that feature the artwork of students, faculty and outside artists. Exhibitions are free and open to the public to enjoy.
Mission Statement
Within the Community College context defined by an Associates of Fine Arts in Visual Arts curriculum transfer degree and in support of Associate of Arts Transfer Degree "The Art Gallery at Fayetteville Technical Community College" exists as a teaching resource by providing professional exhibitions throughout the academic school year.
The Art Gallery at Fayetteville Technical Community College's mission is to provide a cultural resource that encourages dialogue about visual art among artists, the public, educators and students. Also, to support artistic excellence and diversity on both a national and a local level and define and clarify issues pertinent to contemporary practice. Finally, to seek to foster greater accessibility and understanding of the art of our time and to have a voice in the dialogue concerning its socio-cultural relevance.
Fall 2021 Art Exhibition (Virtual)
"NC Community College Systems: Student Art Exhibition 2021" July – October 2021 
"Face Value: Portraits" October – December, 2021
FTCC's Fine Arts Department Faculty